6A. The Architect - Sir Edward Maufe
Sir Edward Brantwood Maufe RA is best known as the architect of the Cathedral at Guildford, which is thought of as one of the most splendid buildings of our century.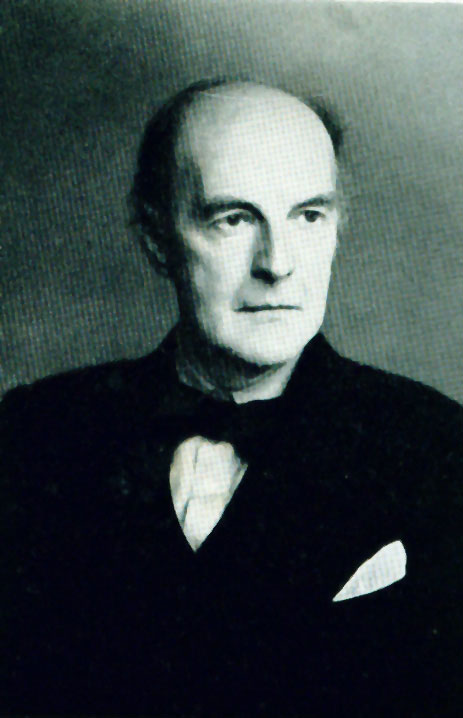 Edward Maufe was born on 12 December 1883 in Ilkley, Yorkshire; he died at his home in Shepherds Hill, Buxted, East Sussex on his 91st birthday, 12 December 1974.
Edward Maufe was articled to William A. Pite in 1899 before going up to St John's College, Oxford, in 1904, (BA 1908, MA 1919) He studied Design at the Architectural Association School of Architecture. In August 1909 he changed his surname by Deed Poll from 'Muff' to 'Maufe'. He married Gladys Prudence Stutchbury in 1910, (a designer, interior decorator and, from 1939, a director of Heal's).They moved to Shepherds Hill, Buxted, East Sussex in 1926 and later had one son, who died in 1968. Lady Maufe died in 1976.
His first major commission, Kelling Hall (1912) at Kelling, Norfolk, for Sir Henry Deterding shows his early links with the Arts and Crafts Movement. He joined the army in 1917, saw action in Salonika, and was discharged in February 1919. He became a fellow of the Royal Institute of British Architects in 1920. After service in World War I, he came to prominence in 1924 with his design for the Palace of Industry at the British Empire Exhibition, Wembley (1924-5). His association with RADD and the Freemasons brought him in to direct contact with the monarchy. In 1932 he won the competition to design the Guildford Cathedral, he came first among 183 entries. In 1936 King George VI had various alterations carried out to the Royal Chapel of All Saints in Windsor Great Park. The small private chapel stands in the grounds of Royal Lodge, the late Queen Mother's residence. He designed a new ceiling for the chancel and a royal pew, new choir stalls and a casing for a new organ. In 1944, he was awarded by the Sovereign the Royal Gold Medal for the promotion of Architecture.
Many of his churches are of the simplified Gothic Revival kind and show affinities with contemporary Swedish architecture, of which Maufe was a constant champion.
He was the architect chiefly responsible, in the 1950s for the rebuilding of much of Grays Inn and the Inner Temple which had been heavily damaged in bombing during World War II. He worked for the Imperial War Graves Commission (1943-1969) as principal architect, then chief architect and artistic advisor; he was knighted for his work with the Commission in 1954. He then lived in Old Church Street, Chelsea London.
Sir Edwards Maufe's work includes:

Kelling Hall in Norfolk (1912)

St Bedes, Clapham Road, London SW9 (1924)

Palace of Industry at the British Empire Exhibition, Wembley (1924-5)

Festival Theatre in Cambridge, alterations (1926)

St Saviours, Old Oak Lane, Acton London, (1926)

Tower at St Marys, Liss, Hampshire (1930)

St Thomas the Apostle, Boston Road, Hanwell, London (1934)

The Oxford Playhouse, Oxford (1938)

Southern extension of Heals Department Store in Tottenham Court Road, London (1938)

St John the Evangelist, London Road, Hook, Hampshire (1938)

Bishop Hannington Memorial Church in Hove (1938)

St. Georges Church, Goodrington, Paignton (1939)

All Saints Weston, Chestnut Avenue, Esher, Surrey (1939)

Walworth Methodist Chapel Clubland (1939)

Second World War Naval Memorial extension at Chatham, Kent (1945)

Naval War Memorial Second World War extension, Portsmouth (1945)

The RAF Shelter, Brookwood Cemetery, Surrey (1947)

The Royal Air Forces Memorial, Coopers Hill, Runnymeade, Surrey (1953)

T

he Extension at the Mercantile Marine Memorial (remembering the men of the Merchant Navy), near the Tower of London, London (1955)

St Columba's, Pont Street in London SW1 (1955)

St Mary in the Park, Willingdon near Eastbourne (1956)

The American Bar Association Memorial to the Magna Carta, Runnymeade, Surrey (1957)

St Alpheges, Lower Edmonton, London (1958)

The Chapel at Boys County Grammar School (now Lewes Priory School) Mountfield Road, Lewes (1960)

Cathedral Church of St Peter extension, Bradford (1963)

St Nicholas Church, Saltdean (1964)